The 11/11 Show:

Dave Nachmanoff appeared at Club Carm on Sunday, November 11, 2007. Show time was 2:00pm. Doors opened at 1:00pm. This was a private event by invitation only.

Dave toured with Al Stewart in the northeast the beginning of November before concluding with a performance at Club Carm. Be sure to check Dave's website for future touring information.

This was Dave's third appearance at Club Carm.

Program note: wine, cheese and food & beverages were availabe prior to and after the concert.

Another successful Club Carm.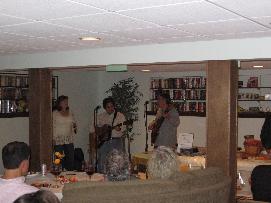 Dave at the Club Carm, 11/11/07